The first thing to bring is your willingness to offer cooperative energies to keep things flowing well!
To keep the gathering affordable to all who wish attend, and to cultivate the community spirit, we ask everybody to Contribute to the Community, to the extent you are able, 2 – 4 hrs in the smooth running of the event.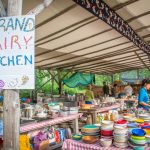 Tasks could include helping in registration, parking, the tea house, meal preparation, serving, and clean-up, children's activities, site maintenance, washing dishes and pots, tidying up, running errands, etc.  There will be a  coordinator to assist with this.
Community Contribution is an opportunity to more fully engage in the event, to have fun, and to interact with people you may not otherwise.  Often significant friendships and synchronistic opportunities arise from simple acts of selfless service.