SKALITUDE
Skalitude takes its name from the Salish word skalalitude which translates as "When people and nature are in harmony, then magic and beauty are everywhere". It is a perfect site for the Congress! It's nestled at the end of a remote mountain valley in the North Cascades in the Methow Valley watershed. The property is 160 acres, surrounded by Forest Service land on all sides, lots of wildness and privacy! The inhabitants are ponderosa pines, douglas firs, aspens, bunchgrasses, countless wildflowers, deer, some coyotes, and an occasional wolf, cougar, rattlesnake, and bear; and many fairies.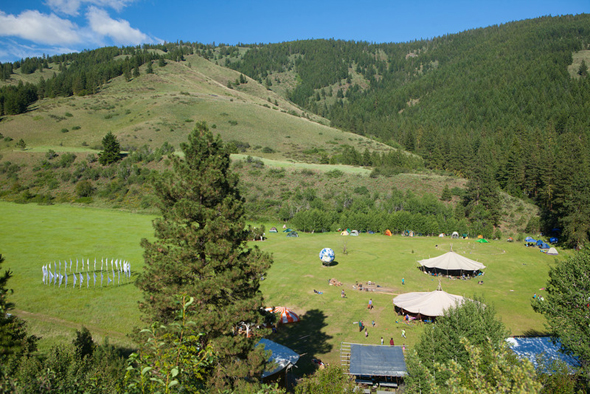 Most of the Congress facilities are set up in one end of an expansive meadow ringed by forests and mountains. The adjacent forest provides shady camping and workshop space. Facilities include a large log-cabin lodge on a bench above the meadow, and the Sky Lodge down in the meadow. The Sky Lodge is a beautiful, winged structure, somewhat akin to a flattened out tipi. It is 54 feet across, 2200 square feet and can hold hundreds of people. We have a large, roofed, outdoor kitchen where we prepare our common meals. We also have a tea kitchen and a lounge. Most of the Congress activities take place outdoors.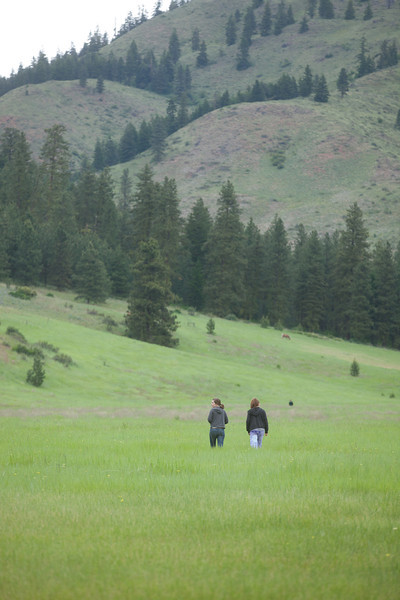 Some Congress participants take hikes into the surrounding mountainous terrain; but most participants stay on the grass floor and gentle terrain of our core area. The ground is level in the main congress area. There is a moderate grade up to the parking area and the lodge which is a 5 minute stroll for most people. Some elderly or disadvantaged people have to go slowly and stick to paths and roads, but so far all have been able to make it. Take a look at the photos on Skalitude's web site to get an idea what it looks like. www.skalitude.com
LEAVE NO TRACE
The hosts of Skalitude are very gracious to allow the Fairy Congress to be held there. We ask that participants be considerate of all their hard work in maintaining the place and to be respectful of the property. Practice "Leave No Trace" camping and please pack your garbage out with you.
HONORING OUR NEIGHBORS
Skalitude is accessed by a dirt road through residential area.  Please keep your speed to 20 miles per hour along this road as it helps keep the dust down and keeps our neighbors happy!  We also really try to minimize traffic during the Congress, so please do not leave during the event unless absolutely necessary.  If you forgot something, ask around as someone else may be able to help you and save you a trip to town.
POWER
Skalitude is completely off-grid, which means that they generate ALL of their own electricity. This means there often isn't much to spare, especially when large groups are there. Please charge cell phone and camera batteries before leaving home, or charge them while driving.
WATER
There is a deep well at Skalitude which provides water for drinking, cooking, cleaning and showers.  The water table is replenished by snow fall in the winter, the local Devas have promised an adequate supply for Skalitude events but conservation is always appreciated, along with lots of gratitude for the life-giving gift of water!
There are two outdoor showers available for Congress participants, that are heated with sun and propane.  We also set up a mister if the weather is hot where people can get wet and cool down. The stream may be running during the Congress depending on the weather. If you want to take a dip in the magnificent Methow River on the way to or from Skalitude there is a lovely public swimming hole in Carlton on the north side of the bridge, 8 miles from the Congress.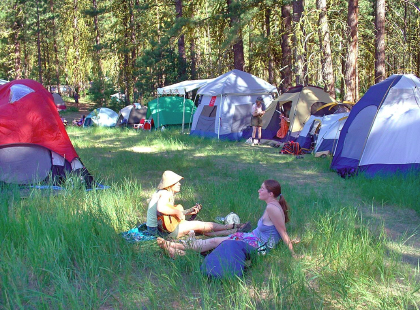 CAMPING
Most people bring tents, but some people stay in their vans, there is limited space for RVs.  (Please call in advance if you are planning on bringing an RV) We do have a noise curfew of 11pm on friday, midnight on saturday.  We do have a 'quiet camping' area by the parking.
There are some shared accommodations available (three people to a room), $85 for the 3 nights of the Congress (or $110 for four nights), with access to shared bathroom.  Email register [at] fairycongress.com for more information.
The best way to experience the Congress is to fully immerse yourself and to stay on-site.  The gathering is mainly a camp-out event at the Skalitude Retreat. The grounds are really great for camping. If this is impossible for you, there are motels within driving distance.  The closest motel is the Country Town Motel in Carlton which is about 7 miles away. (509) 997-3432. The next closest motels are in Twisp, 18 miles away: the Idle-A-While Motel, (509) 997-3222 and the Blue Spruce Motel (509) 997-5000.
CELL & INTERNET
Most people get some cell phone service on-site, although you may have to walk uphill to one of the higher points on the property.  You may give out Skalitude's land line number, 509-997-1032 as an emergency contact.  There is also wireless internet service available on-site.
WEATHER
In late June it's usually hot during the day and cool at night. Typically it doesn't rain, or at least not for long. But cool and rainy weather is also possible. We advise coming ready for hot daytime temperatures and cool to cold nights. Best to keep an eye on weather predictions for Twisp just before the Congress and bring appropriate clothing.
GRASSES
Note that the Congress does take place in a grassy meadow!  If you are allergic to grass or pollen please bring allergy medications and homeopathics!
MOBILITY ISSUES
We attempt to make our gathering as accessible as possible to everyone – including alter-abled attendees. Please note that we are located in a meadow that is not easily negotiated for those with some walking disabilities. Distances between workshop areas, camping, and eating areas are spread out over the site. Please inquire with us directly before reserving your space so we can be certain we can accommodate your personal needs.
DOGS
You are strongly encouraged to leave your dog at home, as dogs are NOT allowed in the main congress area!   Time at the Congress is short and precious, caring for your dog will take away from the time you have for all the various Congress activities.  If you must bring one, dogs must be on a leash and restrained at all times when in the parking and camping areas.  There is room beyond the camping areas for off-leash exercise.
Bringing your dog will mean it will have to be tied up for all the time that you are in workshops and participating in other Congress activities. Be sure that your dog can handle being tied up in a strange place before bringing him/her!  There is not much shade in the parking lot, so keeping your dog in camp will probably be more comfortable. If your dog barks at people it should be kept away from paths or trails with pedestrian traffic. If a dog barks incessantly such that it annoys and distracts others, you will be asked to move. People with dogs should plan on camping towards the fringes of the camping areas, such as at the top of the parking lot, or on the Forest Service road. Dogs must be on leash at all times in these areas, if there are some dogs on leash and even only one dog off-leash, the dynamics are challenging.
Upper meadow and surrounding hills are off-leash areas. We highly recommend you make time to take your dogs out exploring during your stay!